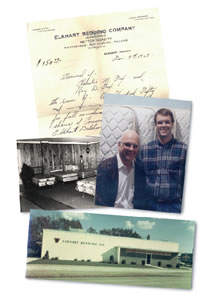 Company History
Since 1919, when Elkhart Bedding Company was founded, a lot has changed in Elkhart and the rest of the world. But something that has remained unchanged is Elkhart Bedding's attention to quality and detail.
Founded by George Fox, Elkhart Bedding was Elkhart's only mattress and box spring manufacturer. Mr. Fox grew the business from the old Germania Hall building on South Main Street to the current Sterling Avenue location. In the late 1960's, Jack Darr purchased Elkhart Bedding from the Fox family and now Chris, Jack's son, has assumed ownership.
From the Fox family to the Darr family, Elkhart Bedding has remained a family-owned business and endured through an unwavering commitment to the customer.
Today Elkhart Bedding has had customers come from Goshen, South Bend, Elkhart, Nappanee, and Plymouth Indiana to shop our local mattress and bedding showroom. We not only serve Indiana retail customers with their mattress and bedding needs we also serve college campuses and RV customers with their bedding replacement needs. Elkhart Bedding also caters to the hotel and motel industry. One of our divisions doing business as Custom Sleep Products, offers quality wholesale mattress sets to regional and local furniture stores as well as other retail outlets who sell our bedding. We invite you to contact us today or stop by our showroom to speak with us about your bedding needs. Listed below are a few of our specialties.
College dormitory mattresses
Recreational Vehicle Replacement mattresses
Wholesale Retail Product Lines
Hotel and Motel mattresses
Institutional and Medical mattresses
Custom and Special Sizes Available